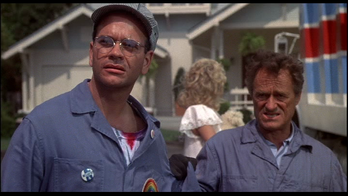 Joe (played by Robert Picardo) is a garbage man.
Biography
Edit
He seemed more laid-back and naive than Vic, his partner.
Joe had beliefs in garbage man and supported the neighbors digging through the Klopek's trash, claiming it is public domain.
Ad blocker interference detected!
Wikia is a free-to-use site that makes money from advertising. We have a modified experience for viewers using ad blockers

Wikia is not accessible if you've made further modifications. Remove the custom ad blocker rule(s) and the page will load as expected.